Branston development: Meeting to be held to oppose plans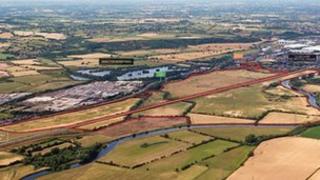 Plans for 660 homes and commercial buildings on land close to the centre of a Staffordshire village will be discussed at a public meeting.
Developers St Modwen recently submitted its plans to East Staffordshire Borough Council for the former gravel quarry site in Braunston.
However, the Branston Action Group said the site was important for wildlife and could be potentially contaminated.
St Modwen said nothing toxic had been found during its investigations.
The developers have not been invited to Tuesday evening's meeting, which is being organised by the campaign group.
A spokeswoman for the action group said part of the 97-hectare site fell on a floodplain area and was also considered important by Staffordshire Wildlife Trust.
She said there were also concerns about land contamination because the quarry site had been filled in with pulverised fuel ash during its work life.
The developers said the land had been investigated and added that a "remediation strategy" would be developed and agreed with the local council.
"Nothing was encountered during the investigations, either chemical or geotechnical, that would preclude development of the site with appropriate and commonly-applied remediation measure," St Modwen's website said.
The development plans will be considered by councillors early next year.