X Factor's Faye Bray sacked after 'sexual' photos went online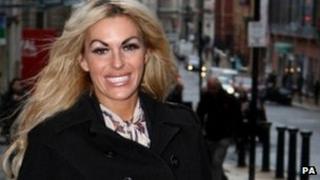 A former X Factor contestant was excluded from the jail where she worked after "sexualised" images were posted on her website, a tribunal has heard.
Prison teacher Faye Bray, 30, claims unfair dismissal by Manchester College, which provides services to Brinsford jail in Wolverhampton.
She also claims sexual discrimination at the Birmingham tribunal.
Governor Stephanie Roberts-Bibby said she had excluded Mrs Bray after provocative images appeared online.
Ms Roberts-Bibby told the hearing that Mrs Bray had put herself in a position where she would be vulnerable and her post as a teacher at the prison was "no longer viable".
Holding a whip
The governor, who stressed that many of those held at Brinsford were themselves vulnerable, said: "I didn't think it was appropriate for Mrs Bray to be displaying such material on a website."
She told the tribunal that photos had been spotted on the singer's website of her posing provocatively while holding a whip.
"I am very keen that we don't do anything to reinforce negative stereotypes they may carry, not just of women, but of any group," Ms Roberts-Bibby said.
The governor also said she believed the web pages constituted a risk to those being taught by Mrs Bray.
The singer appeared on the ITV1 show in 2009.
During her evidence, Ms Roberts-Bibby said it was also clear that Mrs Bray had not followed set protocols while trying to arrange a visit to the prison by a local MP.
The tribunal heard on Tuesday that Mrs Bray was subsequently dismissed by her employer with effect from January this year.
The hearing continues.