Spode museum to be launched at former factory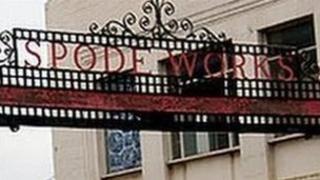 A new museum dedicated to Stoke-on-Trent pottery is expected to open next spring thanks to a £50,000 Heritage Lottery Fund grant.
Many of the items that will make up the Spode exhibition were rescued from the former museum in 2008 when the Royal Worcester company collapsed.
The two-year project will be based in the old Spode factory, now owned by Stoke-on-Trent City Council.
Spode Museum Trust said it would also celebrate factory workers' lives.
It said the temporary museum would "tell the story of Spode and the social and economic history of Stoke".
John Democratis, chairman of the trust, said generations of families were employed at the historic works over more than 200 years.
He said the trust hoped to make audio recordings with some of the former workers about their time at the factory.
"Even right up until the final hours, factory workers were producing beautiful, hand-painted china," he added.
'Living history'
Mr Democratis described the factory, set up by Josiah Spode in the 18th Century, as one of the "jewels" of Stoke-on-Trent, which once led the world in technical innovation.
Spode Museums Trust said it would be collaborating with artists, film-makers and photographers to capture the "living history" of the site.
The 10-acre (40,469-sq-m) factory site was bought by the city council last year as part of regeneration plans.
The Spode factory closed in 2008 when the holding company Royal Worcester went into administration.
Spode and the Royal Worcester brand names were both bought by the Portmeirion Group in 2009, which still produces ceramics under the Spode name in Stoke-on-Trent.