Patients protest as Staffordshire hospital begins move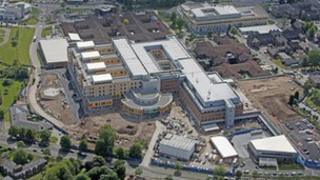 Cystic Fibrosis patients at a Staffordshire hospital are protesting outside the new £400m building.
They want a dedicated Cystic Fibrosis Unit at the new University Hospital of North Staffordshire in Stoke-on-Trent.
Campaign group leader Christopher Hall said he believed a special unit would increase life expectancy because it would give "holistic care".
A hospital spokesman said a small independent unit would not be viable and practically impossible to staff.
Mr Hall said protesters had a lot of public support for their campaign and 3,500 people had signed their petition.
Quality of care
Joanna Hughes, one of the protesters, said: "I want to have a safe place that's like home. A dedicated unit would a quality of care and you'd feel more comfortable in hospital than being on a general respiratory ward.
"We understand that moving to the new ward is improving the facilities to what we've got now, but improving the bricks and mortar doesn't exactly mean it's improving the quality of care for patients."
The first patients are being transferred to the new building which has been built with money from the Private Finance Initiative (PFI).
It will take a year to complete the move from the current hospital which is based at three separate sites.
Julia Bridgewater, Trust chief executive said: "Unlike the older buildings scattered around the various sites, everything for patients will be under one roof."
After the move is complete, the old site will be landscaped or used as car parks.
Construction work on the new hospital on the site of the old City General Hospital began in 2008.
The first patients are moving from the respiratory wards on Saturday.
Kevin Parker, Matron for Respiratory, said: "The staff have been working tremendously hard over the last few months to ensure that the move will take place as smoothly as possible for the patients."