Staffordshire Hoard goes on display in Washington DC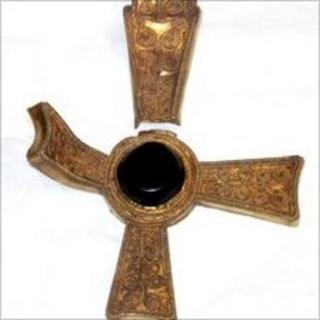 A museum in the United States has begun exhibiting the UK's largest find of Anglo-Saxon treasure.
The exhibition is at the National Geographic Museum in Washington DC.
The hoard of more than 3,500 gold and silver artefacts was found by a metal detector enthusiast in a farmer's field in Staffordshire in July 2009.
The Staffordshire Hoard is now jointly owned by the Birmingham Museum and Art Gallery and the Potteries Museum.
It will stay on show in the US until March 2012.
'Wonderful artefacts'
Susan Norton, museum director of the National Geographic Museum, said: "Archaeology is a core subject at National Geographic so the discovery, excavation, conservation and scholarship related to the largest collection of Anglo-Saxon treasure ever found is just the sort of story that the National Geographic Museum loves to share with our visitors.
"We were able to collaborate with the Birmingham Museum and Art Gallery and the Potteries Museum and Art Gallery, Stoke-on-Tent, as part of a larger relationship with National Geographic."
She said the collaboration had meant the Hoard was included in TV shows, magazine articles and a book.
She added: "We believe that our visitors will be fascinated by these wonderful artefacts and will learn more about this time period and the West Midlands area."