'Postcode lottery' delayed Ryan Lomas's epilepsy operation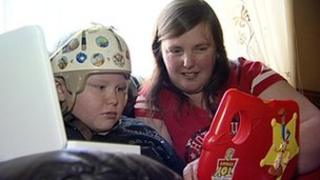 A boy with epilepsy who was denied an operation three times by the NHS in Staffordshire has been granted it at the first attempt in Nottingham.
Ryan Lomas, 14, will be fitted with specialist equipment next month.
It is hoped it will reduce the fits which have led to him fracturing an eye and losing a tooth.
NHS North Staffordshire said it was not able to fund the operation with limited resources available for the population it serves.
The Epilepsy Society said Ryan's experience amounted to a postcode lottery, which has been shared by a lot of families.
The teenager, who used to live in Biddulph, has Lennox Gastaut syndrome, which leaves him with learning difficulties and suffering severe daily fits.
He is currently on a high dose of a combination of drugs to control his condition.
His operation will involve the fitting of vagal nerve stimulator (VNS), which is often recommended when drugs alone do not control epilepsy.
It sends regular, mild stimulations to the vagus nerve, travelling into parts of the brain thought to cause seizures.
Trials showed VNS led to a 50% or greater improvement in 40% of patients, although it is not effective for everyone.
However, while the family's original application for Ryan's operation was supported by clinicians, it was turned down and rejected twice on appeal by NHS North Staffordshire.
The family now lives in Nottinghamshire, where the story has been entirely different.
Ryan's mother, Sue Smith said: "I think that they should give this to all children with severe epilepsy. I don't think that they should be refused. It is just wrong what they are doing."
'Tremendous change'
Seven-year-old William Merron lives just a third of a mile from where Ryan lived in Biddulph. He has West Syndrome and autism.
His parents were also refused VNS by NHS North Staffordshire.
They undertook 18 months of charity fundraising to raise £9,000 so that William could have the operation.
His father, Mark Merron, said: "Now we have it in, it could mean a tremendous change to his life. You could have a child who is out of nappies and who is talking. This could be the best thing for him."
NHS North Staffordshire said that it does not routinely fund vagal nerve stimulation.
It said: "Where clinical requests are received for treatments that are not routinely commissioned these will be considered on an exceptional basis through our Individual Funding Request policy.
"Whilst we were not able to fund this specific treatment for Ryan Lomas and William Merron, the overall health of North Staffordshire remains our priority."
Sally Gomershall from the Epilepsy Society said patients who fit the criteria should be able to get the operation quickly.
"We feel that this is not an isolated incident. It is happening to lots of families and that epilepsy services are really a postcode lottery," she added.