Staffordshire Police look at alternatives to arrests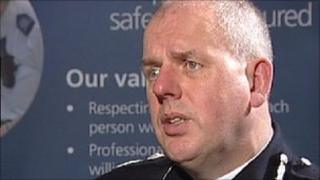 The chief constable of Staffordshire Police has said he is "encouraging" officers to look at alternatives to making arrests.
Mike Cunningham's comments came after the force brought in consultants KPMG to help deal with a £38.7m budget cut.
Among the proposals was a bid to prioritise calls and reduce paperwork.
"Where an arrest is appropriate officers will continue to do that. But there are other things at our officers' disposal," said Mr Cunningham.
"We're encouraging officers to consider those options as well," he added.
Staffordshire Police has previously cut divisions and back-office support to save money as part of the budget cuts. Up to 384 police officers and 387 staff could lose their jobs, along with 25 community police officers, over the next four years.
According to Mr Cunningham's report to Staffordshire Police Authority, the total cost of KPMG's 18-week review was £480,000 which was funded by reserves.
It said the benefit of changes in operations in the north of the county were anticipated to be the equivalent of 130.5 full-time constables, although this would not mean the loss of a similar amount of jobs as a direct response.
If the measures were rolled out across the rest of the area, it was calculated total savings of £10.2m could be made in year one, with a £12.2m annual saving thereafter.