Stafford Hospital inquiry: Final witness's tears at bullying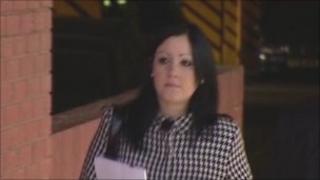 The final witness at the Stafford Hospital public inquiry broke down in tears at the hearing as she described bullying on the wards.
Casualty nurse Helene Donnelly said she was spurred to blow the whistle as she could not see patients suffer any more.
The 11-month inquiry has been examining the role of regulatory bodies after a report found "appalling care" at the hospital between 2005 and 2008.
The chairman will publish a final report in the coming months.
Ms Donnelly, who broke down in tears, said: "I was being warned by other people of threats and being told to watch my back.
"My husband, mother or father was picking me up from work after late shifts on a regular basis, as I was afraid to leave the hospital unaccompanied."
Reflecting on her time at Stafford, she said: "A cultural shift is needed in that hospital.
"New staff should be brought in and the existing staff need to learn what normal is. I'm not sure even now that this is happening."
The inquiry, which started in November 2010, has heard from 179 witnesses, including patients, relatives, politicians and regulators.
'Definitely worth it'
It will hold seven seminars around England looking at broader issues raised by the inquiry ahead of the chairman's final report.
Julie Bailey of Cure the NHS, who campaigned to have the public inquiry after her mother died at the hospital, said it had "most definitely" been worth it.
She said: "This is the first time the NHS has been examined closely. We've looked at all the regulatory bodies.
"Safety has got to be introduced to the NHS with a better priority."