Chasewater Reservoir refilled after £5.5m repair work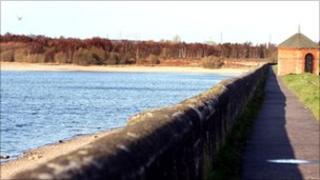 Waters at a 200-year-old Staffordshire reservoir are set to rise again after the completion of a £5.5m repair job.
Chasewater Reservoir was drained of water in early 2010 amid concerns for the safety of the dam.
Built from stone and rubble in 1797, the dam stops thousands of homes in Shenstone and Tamworth being flooded.
Repair costs rose from an estimated £2.5m in 2009, to the final £5.5m figure, which the county council said would be paid for over 40 years.
Council bosses said provisions had been put in place to deal with the increased cost at the reservoir, which also helps British Waterways maintain levels in the Midlands canal network.
The work was started by Lichfield District Council, but after it proved a bigger challenge than anticipated, ownership of Chasewater Country Park switched to the county council, which paid for all the repairs.
Rare wildlife
The council hopes the reservoir will now become popular again as a leisure attraction and also develop into a wildlife haven.
Mark Winnington, the environment cabinet member at the county council, said: "I am now delighted to be able to confirm that we have been able to put the plug back in.
"We realise that many local people have been frustrated about the length of time that the reservoir has been empty, but we really have completed the work in as short a time as practical."
The gradual seepage of water through the dam over many years has created a mini-ecosystem that has become a Site of Special Scientific Interest.
Contractors have had to protect rare wildlife and vegetation during the work, and a rescue scheme is planned for 50,000 fish living in the reservoir.
It is expected to be refilled fully by Spring 2013.