Leek roundabout plan opposed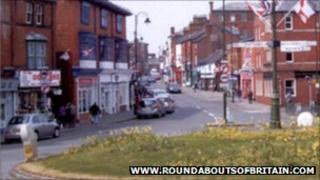 More than 4,000 people have signed a petition to save a landmark roundabout in Staffordshire.
The roundabout in the the centre of Leek is due to be turned into a junction with traffic lights.
Campaigners say traffic lights would obscure the Nicholson War Memorial, dedicated to 420 local men who died in World War I.
Staffordshire County Council said installing lights would improve traffic flow.
Pam Wood, from the Moorlands Democratic Alliance, said residents were determined to oppose the new road scheme.
She said: "People are stopping me and phoning me all the time asking me what we're doing next.
"The road plans are wrong and there was no consultation."
'Like Blackpool Tower'
The local Royal British Legion (RBL) has complained the lights would affect the view of the memorial, which was built by industrialist Sir Arthur Nicholson.
Fred Duffield, secretary of Leek branch of the RBL, said: "Members are all of the opinion that the traffic island must stay.
"We don't want the traffic lights here because it would be like Blackpool Tower lit up.
"It would be disrespectful to the soldiers, sailors and servicemen who died and who this memorial is dedicated to."
Staffordshire County Council said there would be a chance in November for people to give their views on the details of the changes.
The authority said it was willing to talk about the positioning of traffic lights, but it insisted the roundabout must be removed.