Medieval seal from Stone Priory found in a Surrey field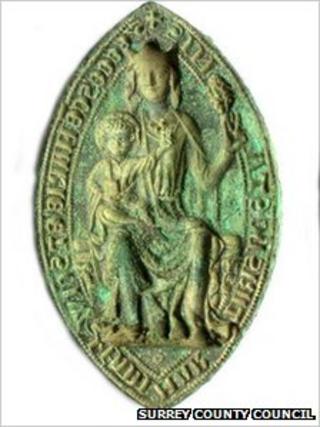 A medieval seal thought to have once belonged to Stone Priory in north Staffordshire has been discovered in a field in Surrey.
The bronze object, which bears the image of the Virgin and Child, was found in Cobham by a metal detector enthusiast.
Finds Liaison Officer for Surrey County Council, David Williams, said it was a "complete mystery" how the seal had ended up there.
It is thought to date from between the 13th and 14th Centuries.
The seal is an oval shape and pointed at each end. It is about 7cm long, 5cm wide and weighs just 84 grams.
In the image the child holds a book in this left hand and appears to be pointing upwards with his right.
'Massive seal'
The inscription around the seal reads: "S'ecc Sce Marie et Sci W(v)lfadi Martiris de Stanis" which can be translated as "seal of the church of Saint Mary and Saint Wulfad, Martyr of Stone".
This led Mr Williams to believe the seal originated in Stone.
Stone Priory was built in the 7th Century by Wulfhere, who was the first Christian king of all of Mercia. It was dedicated to Mary and a local martyr, Saint Wulfad.
"The first thing you say is 'wow'," said Mr Williams, who deals with archaeological discoveries at Surrey council.
"Then you sit back and think what on Earth does this mean because it's twice the size of any other medieval seal that I'd seen?
"When you get a large one like this, it's clearly something quite important.
"It is a huge and massive seal in the great world of seals."
Interested buyers
Mr Williams said there was no apparent connection between the towns of Cobham and Stone, and that it was a mystery how the seal got there.
He said that there was a possibility of it returning to Staffordshire, but it was not up to him, and the seal had since been returned to the finder.
The seal is unlikely to be classed as treasure trove as it is not made of gold or silver. Therefore, a valuation would have to be agreed privately between the current owner and any interested buyers.
A spokesman for the Potteries Museum in Stoke-on-Trent said it was aware of the find, but it was too early to say if it would be interested in buying the seal.
Philip Jones, leader of Stone Town Council, said: "Stone is very proud of its history and heritage and can trace its history back to the Middle Ages.
"We would very much like to have the artefact to preserve in the council chamber."