Paralympian Lee Pearson injured tripping over chicken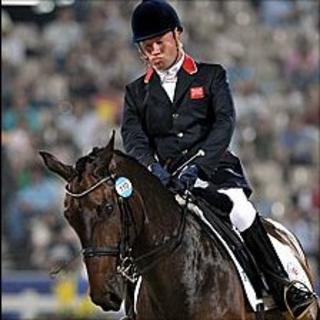 Injured nine-time Paralympic champion Lee Pearson feared a further injury setback after tripping over a chicken and landing on his back.
Pearson, 37, of Cheddleton, Staffordshire, who is recovering from a fractured spine in a riding fall, tripped over the bird at his yard.
He was moving Edna, Tracy Turnboil and Wilba to a new hut when he fell and became stuck until a colleague helped.
He feared a broken rib but escaped needing only painkillers.
No-one around
Pearson was born with arthrogryposis multiplex congenita, meaning the muscles in his arms and legs grew in the womb as scar tissue.
Earlier this year the gold medallist fell from his horse during a training session, fracturing three vertebrae and crushing a fourth.
Speaking about the latest incident, he said: "I tripped over a chicken and thought I had broken a rib.
"I ended up on the floor on my back. There was nobody around.
"I was stuck in my yard on my back - I was like a dying turtle.
"I was picking up Tracy Turnboil and Wilba putting them over the fence to put them closer to their hut and for some reason Tracy Turnboil ended up in the air. I ended up flying with my legs in the air.
"I hit a roll of fencing on the way down and so I am on painkillers at the moment. I was lying there thinking 'please tell me I have not fractured my back'."
Pearson added: "I got recognised in accident and emergency - a little old lady came past and asked for my autograph.
"It was much more impressive falling off a horse and breaking your back in four places but this one is just amusing, I guess. It was silly."
Pearson, who was appointed CBE in 2008, will miss out on the 2011 European Championships this month due to his earlier back injury.