Emma Timmis plans marathon charity run in South Africa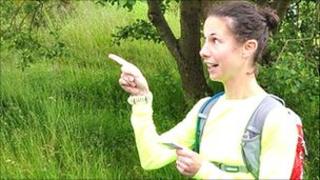 An RSPCA inspector is planning to run the equivalent of almost 60 back-to-back marathons across South Africa to raise money for a wildlife hospital.
Emma Timmis, from Sandbach, Cheshire, hopes to raise at least £15,000 for the RSPCA's Stapeley Grange Wildlife Centre in Nantwich.
"I've always wanted to do something big for charity," said Ms Timmis.
The 27-year-old will start the 1,5000 mile run between Durban and Cape Town in October.
Emma only just completed her training to become a fully-fledged RSPCA inspector last week.
'Wildlife is forgotten'
She is planning to run 25 miles a day for 60 days and aims to run for six hours a day, spending each night in a tent.
Accompanied by her brother, who will cycle the route, Emma said: "I'll be running a route known as the Freedom Trail, more commonly used by mountain bikers.
"It's quite a mountainous route, and I'll be running on tracks and trails.
"I believe only one other person has ever completed this challenge and if I manage it I will be the first woman ever to have done it.
"It's just a bit of an adventure. I'm really passionate about running - I've been running all my life.
"A lot of people donate money to dogs and cats because they have them at home but I think that wildlife is often forgotten."