Stoke-on-Trent council tax arrears 'same as budget cuts'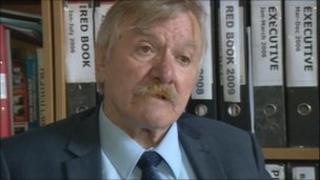 The amount of uncollected council tax in Stoke-on-Trent is equal to the amount the authority must cut from its budget next year, figures show.
Council tax arrears stand at £20.1m while the council is expecting to make £20m of cuts next year, after already identifying £11m of savings.
Last year the Labour-run city authority was the worst in the West Midlands region for collecting council tax.
The council said it will make improved efforts to collect it next year.
In February, the council approved plans to cut 710 jobs and reduce funding for swimming pools, libraries and care homes.
Last December, when the authority was told by the government that it was losing £20m from its budget, councillors described it as "the worst case scenario come true".
Speaking about the current amount of arrears, Independent councillor Dave Conway said it was a huge waste.
"That's criminal. we just lost 700 to 800 officers out of this authority," he said.
"I'm all for cutting out waste but what is a bigger waste than all this?
"When I think about all this money out there but that we have not bothered to collect."
Julie Latham, who campaigned against cuts which led to Shelton Swimming Pool closing, said: "It's so so, so, so needless.
"Yes, cuts have to be made but cuts in the right places.
"I think there are a lot of things that are needless expenses by the council and vital, vital services are being cut because of this."
Labour Councillor Sarah Hill said: "We've got a group of councillors working with some officers about looking at what we should be doing differently, about when we should take action and what the right point is to take action."