Biffa Newstead rubbish fire extinguished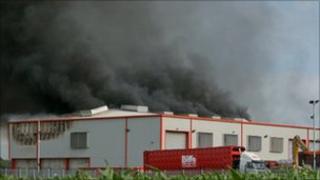 A fire at a waste services site in Stoke-on-Trent that began on Monday afternoon has now been extinguished.
Staffordshire Fire and Rescue initially said it thought it would take all of Tuesday to put out the fire at Biffa Waste Services in Newstead.
Digging machines are due to turn the waste over.
The site was targeted twice by arsonists in 2007. Investigations are due to be carried out later and anyone with information should call police.