Slash plays homecoming gig in Stoke-on-Trent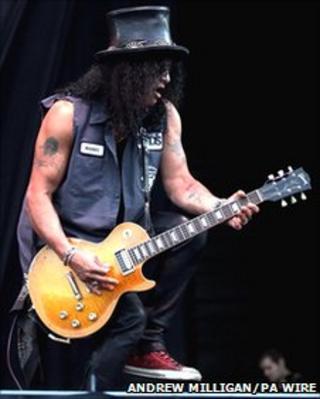 Former Guns N' Roses guitarist Slash finally came home to Stoke-on-Trent to play his first gig in the city where he lived as a young boy.
Tickets were hard to come by. When they went on sale, all 1,500 were snapped up in less than two hours.
The queue, which snaked around the Victoria Hall in Hanley, included fans from the USA and Japan, three generations of one family, and a heavily pregnant woman who said she was hoping the guitar playing would induce birth.
"I've been wanting to do this for a long time and for some reason it just never seemed possible," said Slash.
"One of the things about doing the solo record and setting up my own tour was that I told the powers-that-be that I wanted to play in places I'd never played before.
"And so Stoke was something that was high on my list and I told them just make it happen."
Slash, whose real name is Saul Hudson, left Stoke-on-Trent when he was five years old. But he said he still had "vivid memories" of the city.
'Dinosaur mad'
"I have memories that I went to school there, of the basic neighbourhood that I lived in. I remember exactly what the house looked like.
"Just everything in general, for some reason my memory is really clear.
"Better than my memory of later years."
Pat Lawton, from Heron Cross in Stoke-on-Trent, used to babysit the young Saul.
"At night-time, I used to help bath him. I used to sit on his bed with him reading his books.
"He had a dinosaur book and he was totally mad about dinosaurs.
"I didn't actually find out that Slash was Saul until he was 26 when the local newspaper was round his granddad's."
'No frills'
Slash said that the gigs were a mix of all his work from the past to the present.
"It's all thrown together. We make up the set either the night before or the morning of the next show.
"It's pretty spontaneous, it's very much old school, loud rock and roll. There's no frills."
But although he still plays some of the old classic songs live, he ruled out any hopes of a reunion with Guns N' Roses.
"I had a great time with Guns and it's very much a part of who I am.
"But it's been like 16, going on 17 years, so I'm beyond missing it."
The 1,500 fans who were treated to a three-hour marathon show on Sunday night will now be hoping that Stoke-on-Trent will become a permanent fixture on Slash's future tours.