Poet Laureate Carol Ann Duffy takes cathedral tour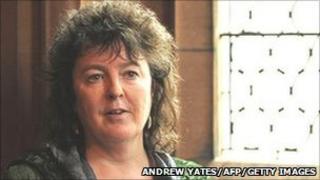 Poet Laureate Carol Ann Duffy has chosen Staffordshire to launch a new poetry project which celebrates cathedrals across the UK.
National Poems For Cathedrals gets underway at Lichfield Cathedral as part of the city's annual arts festival.
Ms Duffy, who grew up in Stafford, will read Poem For The City at a special event on Wednesday, 13 July.
She is then set to visit other cathedrals to perform a poem for each city as part of her time in post.
The national poets of Wales and Scotland, Gillian Clarke and Liz Lochhead, have agreed to join the project, giving it the potential to include every cathedral on the British mainland.
During the reading at the Lichfield Festival a new banner for the city will also be unveiled.
Designed by artist Stephen Raw from letters painted by nearly 500 children and adults in a community arts project, the banner depicts lines from the Lichfield poem.
Ms Duffy said: "This project will not only challenge me as a poet, but also gives me the opportunity to contribute to the enduring legacy of these great buildings, the spiritual cornerstones of our national heritage."