Staffordshire firefighters rescue ducklings from pipe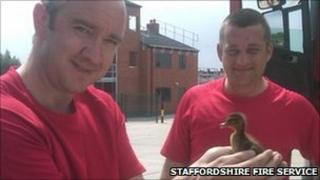 Firefighters in Staffordshire have rescued four ducklings from a drainage pipe underneath their fire station.
A female duck was spotted quacking in the yard of the fire station in Tamworth on Monday.
When fire crews investigated they discovered four of her 11 ducklings had fallen down a drainage hole.
One was rescued via a grid leading to the drains but crews had to make a grabbing tool to retrieve the others as they could not be reached by hand.
They were then taken to a nearby lake.
Lisa Jenkinson, of Tamworth area command, said: "The mother duck had rounded up her seven other ducklings and obviously knew something had happened to the other four, so she stayed nearby the whole time," she said.
"The firefighters tried everything to reach the ducklings but nothing was small enough to reach.
"Eventually, we had the idea to fashion a grabber-type mechanism out of bamboo canes and an old coat hanger and after two hours of trying, the ducklings were finally reunited, unscathed, with their mum.
"We then boxed up all 11 ducklings and their mum and took them to a nearby lake where we released them and off they swam."