Soldier Gareth Bellingham's grieving mother 'hates army'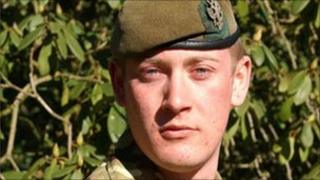 The mother of a soldier who was killed in Helmand province said she hated the army for taking her son away from her.
Private Gareth Bellingham, 22, from Stoke-on-Trent, of 3rd Battalion The Mercian Regiment, was shot while on patrol with Afghan troops on Saturday.
He was described by his comrades as a "respected" and "committed warrior".
His mother Suzanne Ashe said: "All I could say was that I hated the army, that they've taken my child. He's dead and nothing's going to bring him back."
'Couldn't sleep'
She said: "He wanted to go into the army and it was a great place for him and he enjoyed it, but when you know they are going to be sent away and fighting with real bullets, then you hate it.
"Last night when I was told, I actually couldn't believe it. I don't know, it happens to somebody else, not to you. The strangest thing is, the night before I couldn't sleep and I was up writing an email to Gareth and it's as if something was telling me something wasn't right.
"He will never know what it's like to be in a relationship and to have children. He will never have that and I'm so upset that he's going to miss out on all of that because he loved life.
"I know he was a good soldier. We had our differences and we had a few arguments and whatever, but I know that he cared for me and he knew that I loved him to pieces and now he's gone."
'Keeping me going'
Pte Bellingham was born in November 1988.
"He had gorgeous black, fuzzy hair," said Ms Ashe.
"He was the funniest, most loving little boy anyone could meet. He loved having his photo taken and he was so photogenic."
Ms Ashe has cancer and the last time she saw her son she was in intensive care.
"He said he was out in Afghanistan but he would be back in October, and that was what was keeping me going."
"He will always be a huge part of my life. I honestly do not know how am I going to live without Gareth in the world."
Lt/Col Giles Woodhouse, commanding officer 3rd Battalion The Mercian Regiment, said: "Pte Bellingham was one of those soldiers that you had to have in your section; fearless, utterly professional, a prankster and a loyal friend who never let you down; quite simply he was a force for good."
The number of UK service personnel killed in Afghanistan stands at 374.