Pottery site saved by The Prince's Regeneration Trust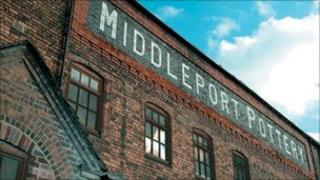 The site of the last working Victorian pottery factory in Staffordshire has been secured for future generations by The Prince's Regeneration Trust.
The charity announced on Monday that it would invest £7.5m into preserving and regenerating Burgess, Dorling and Leigh's factory site in Stoke-on-Trent.
Distinctive Burleigh blue and white floral china has been made at Middleport Pottery since 1888.
Until 2007 the chinaware was made using steam-powered machinery.
'Preserved for generations'
Due to the high cost of renovating the Victorian building, the company said the Middleport Pottery factory had been at possible risk of closure.
However The Prince's Regeneration Trust said it wanted to preserve the building, where 48 workers are employed, as the last working example of Victorian pottery manufacturing in the UK.
Middleport Pottery has now been bought by the United Kingdom Historic Building Preservation Trust (UKHBPT) on behalf of The Prince's Regeneration Trust.
The charity's chief executive Ros Kerslake said: "The Prince's Regeneration Trust will renovate the Grade II listed buildings, which are over 150 years old, and will lease approximately half of the site back to Burgess Dorling & Leigh for pottery production.
"Thus the site will continue to be used for its original industrial purpose, traditional skills will be preserved and Victorian machinery and other historical artefacts will be saved."
Garry Biggs, managing director of Denby Potteries Ltd said: "My colleagues and I greatly welcome this investment to regenerate the historic Middleport Pottery building.
"This investment will not only ensure that its unique skills, still in use on this site, are preserved for future generations; it also enables us to continue the business turnaround since Denby bought Burleigh pottery last year."
It is planned the other half of the 84,000 sq feet site (7,803sq m) will be developed and let to craft and creative businesses.
The Prince's Regeneration Trust said it hoped the redevelopment would stimulate regeneration in the area by increasing employment opportunities and attracting new businesses to the Middleport Pottery site.
It also plans to build a visitor and education centre with a factory shop and cafe on the site.