Unesco recognises Wedgwood Museum archive collection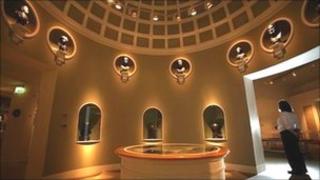 Stoke-on-Trent's Wedgwood Museum has joined an exclusive heritage list put together by the cultural body Unesco.
The museum's archive collection has been selected as one of 20 items on the UK Memory of the World Register.
This online catalogue, set up by the United Nations, aims to raise awareness of culturally significant archives.
Museum director Gaye Blake Roberts said their collection was "a hidden gem of Great Britain".
The Wedgwood Museum archive holds over 100,000 documents and manuscripts relating to Josiah Wedgwood, his family and the pottery company he created.
Uncertain future
In the Unesco register, the museum's archive now sits alongside objects such as the Bill of Rights, which is the closest document that the UK has to a written constitution, and a copy of King Charles I's death warrant.
The list also includes the 9th Century Cura Pastoralis of Gregory the Great - claimed to be the first surviving book written entirely in the English language, and the Gough Map - the earliest surviving route map of Britain.
"Hopefully it will make people people aware of the huge significance of this unbelievable accumulation here at Barlaston," said Ms Blake Roberts.
The museum is currently facing an uncertain future. It could be sold off to fund a big hole in the pension deficit following the collapse of the pottery firm Waterford Wedgwood.
But Ms Blake Roberts is hopeful that this announcement by Unesco will strengthen their hand when the case goes to court this September.
"Who can say what the law will decide, but undoubtedly this sort of recognition can only help our cause and make people realise just how significant the collections is."
'Huge pride'
Ms Blake Roberts insists that while the archive is set to receive international attention, it is a unique record of social history in north Staffordshire and is always available to local residents.
"People can come and search their family ancestry... we've got some unbelievable details about local families whose ancestors for generations back have always worked for Wedgwood.
"We have the apprenticeship agreements, we know how much people earnt per week and we've got photographs in this collection of family members of local people that they probably don't even know exist.
"We're hoping that this Unesco recognition will flag up to the rest of the world the importance of this collection.
"But also to give local people a huge pride in what is sitting here - that they are very much the owners of."