MPs and potteries campaign for Made in Britain mark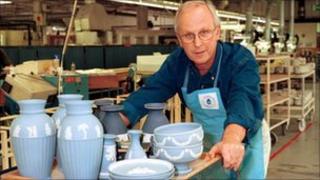 MPs and pottery firms in Staffordshire have urged the government to introduce new laws forcing manufacturers to clearly label where their products are made.
They insist consumers want to know if ceramics are made in the UK, or abroad.
Matthew Rice, chief designer at Emma Bridgewater Pottery, said: "People do like the idea of things made in England."
The campaign has support from Staffordshire MPs from all parties.
"Shopping is the most political thing we all do and choosing what we buy - based on where it was made, how it was made and what went into it - is an incredibly significant way of changing things," said Mr Rice.
The Conservative MP for South Staffordshire, Gavin Williamson, is a former managing director of Aynsley China. He recently secured an adjournment debate in the House of Commons about country of origin markings for manufactured products.
"We cannot forget that Made in England and Made in Great Britain have value for consumers in this country, but probably more so around the globe," said Mr Williamson.
He believes that a stamp which stated where products were made would help to boost British manufacturing and urged the government to legislate accordingly.
Voluntary decision
Stoke-on-Trent North MP Joan Walley was one of the politicians to show their support for Mr Williamson.
She said: "The real issue is that goods are being sold in a confused way, and consumers are buying products without realising that they are not manufactured, designed, decorated and so forth in the UK."
But Consumer Minister Ed Davey maintains that marking products with their country of origin should be a voluntary decision for each manufacturer - like it is at the moment.
And not all pottery companies are in favour of country of manufacture backstamps. Norman Tempest, managing director of Royal Stafford Tableware in Burslem, said most shoppers were not really bothered about the origin of manufacture.
"I don't think it makes a great deal of difference to the consumer. When people are making a buying decision over pottery, it's usually the design, the shape that people go for - and then the price.
"And if it happens to be made in England, that's a bonus."