FA Cup final will benefit Stoke, business expert claims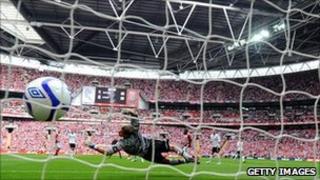 Stoke's visit to Wembley for the FA Cup final will benefit the city, a business expert claims.
Paul Williams, programme area manager for Staffordshire University's Business School, said win or lose, Stoke-on-Trent had an "unrivalled opportunity".
Stoke City are due to play Manchester City on Saturday.
Mr Williams said: "This is an unrivalled opportunity to promote the city and bring attention to it and to encourage tourism and investors."
He said the FA Cup final generated worldwide media coverage through several hundred million viewers in 70-plus countries.
He added: "It is very difficult to put a figure on what it would cost to generate that level of publicity in any other way, but it would run into tens of millions of pounds."
The Potters will make their FA Cup final debut at Wembley.