Stoke City fans back Tom Jones's Delilah to top charts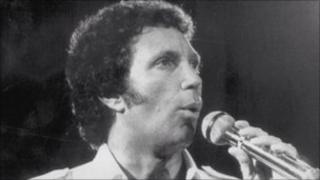 An internet campaign has been started to get the Stoke City anthem Delilah back into the charts.
A group of Potters fans have set up Facebook and Twitter pages to urge people to download it before their FA Cup final appearance.
Shawn Beardmore, who has been a Stoke City fan for 26 years, said: "It's our anthem. It's the song that every other club associates with Stoke."
The Tom Jones song reached number two in the British charts back in 1968.
"To get in the top 10, we're going to need 15,000 downloads.
"So if everyone who goes to the final buys it just once, that's 25,000 downloads and I would imagine that would get us top 10.
"We just want to show the lads [players] that we are thinking of them, and we appreciate everything they've done over the last few years," added Mr Beardmore.
Swear words
Lifelong fan Anton Booth is the supporter most closely associated with the song. Back in the 1980s, he would be held aloft on the terraces to sing the opening lines.
Football folklore suggests that the song was chosen after an away day in Derby. Mr Booth was in a pub with other Stoke City fans when police officers asked them not to sing any songs with swear words. Delilah came on the jukebox and the rest is history.
Stoke City say they have had talks in the hope Tom Jones will re-record Delilah in time for the final on 14 May.
Fans of Manchester City, who Stoke face in the FA Cup final, adopted Blue Moon as their anthem in the late 1980s. It was originally sung by Crewe Alexandra's fans.