Plan to save Flash Primary School with 10 pupils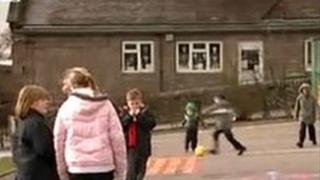 A Staffordshire Moorlands primary school with just 10 pupils has been told it will be linked with a neighbouring school to help it survive.
Flash Church of England Primary School has capacity for up to 50 children, but was placed under threat of closure last year due to falling pupil numbers.
Staffordshire County Council has been consulting parents about closing it.
But it said Flash would be "federated" with St Bartholomew's Church of England Primary School in Longnor.
Councillor Liz Staples, cabinet member for education and skills, said the decision had been taken in response to parents' wishes expressed in the public consultation.
She said both schools would be monitored closely and if standards fell at either school as a result of federation, the council could revert to its original decision to close Flash Primary School.
"At some point during the next school year we will conduct a review to ensure primary education in the whole of the rural moorlands is sustainable for the future," she added.