Pottermouth's Stoke City FA Cup song is YouTube 'hit'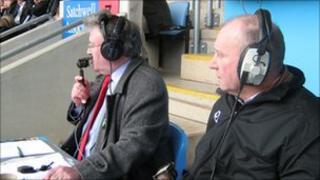 Songs from fans celebrating Stoke City's forthcoming appearance in an FA Cup semi-final have been getting thousands of hits on the internet.
In three days, We Believe by the artist Pottermouth has attracted 6,000 views.
BBC Radio Stoke's Nigel Johnson, who is featured on two of the songs, said he was amazed.
"Stoke have never won the Cup. It just shows the passion there is in the city to do it this time."
A second tune, The Great North London Road Trip by Universal Thrift Club, which will raise money for charity, has attracted 2,000 views.
Secret identity
Although he has never revealed his identity, Pottermouth first became famous in 2008, when a similar track dedicated to Stoke City Football Club attracted internet attention. The song has since had 115,000 listens on YouTube.
The new song, based on an Eminem tune, previews the FA Cup semi-final at Wembley on 17 April when Stoke play Bolton.
Both We Believe and The Great North London Road Trip feature vocals from football commentator Johnson.
"When UTC asked me to work with them, I said I had no sense of rhythm.
"So they said they'd just nudge me when I had to come in, and that was how it did happen eventually," he said.
Stoke City FC has not commented officially on the releases.