Port Vale FC to resume £2.25m council loan repayments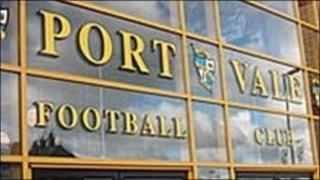 Port Vale Football Club must continue to pay back a £2.25m loan to Stoke-on-Trent City Council after previously being given a repayment holiday.
The League Two club applied to the authority for financial help in 2006 in order to pay outstanding debts.
In 2009 the council issued a two-year repayment holiday, which meant in that time the club was only required to pay the interest on the loan.
Now the council, the major creditor, has said this period is over.
'Cause for concern'
The authority said the loan was initially granted due to the economic downturn and to support a community club.
Vale will now be required to make monthly payments which will include both repayments of the borrowed money and the interest.
A football finance expert, Dr John Beech, from Coventry University, said: "If you think of it in terms of how many people you're going to have to get coming through the gates every other Saturday, it's significant.
"It's certainly a cause for concern, not a cause for panic."
The club was unavailable for comment on Monday.