Horse rescue fire crew and RSPCA inspector commended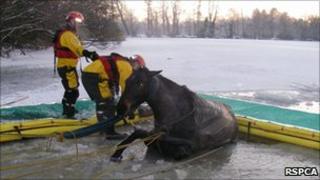 Commendations have been awarded to 11 Staffordshire firefighters and an RSPCA inspector for saving a drowning horse.
Ghillie fell through a frozen lake on Christmas Day and had only her neck and head above water when officers arrived.
Rescuers spent two hours chipping away at the ice and trying to pull the eight-year-old out of the frozen water in Pattingham, Shropshire.
RSPCA regional manager Steve Carter presented the awards at Newcastle-under-Lyme fire station.
'Christmas pudding'
Melanie Brown from Sedgley was out walking when she spotted the struggling horse.
"At first we thought it was a log but then it moved and I said 'that's a horse!' to my partner. I called 999 straight away," she said.
Ghillie was in critical condition when firefighters and RSPCA inspector Jackie Hickman arrived.
"The officers worked tirelessly in the interest of animal welfare," she said.
Mick Daniels, one of the rescuers, added: "We are all very pleased we managed to save the horse, it was a fantastic team effort, and I think most of us were home in time to enjoy Christmas pudding."
Ghillie's owner, Sue Taylor said: "I cannot thank the fire and rescue officers enough as well as Jackie for saving Ghillie's life."