Stafford Hospital's new leader to 'restore confidence'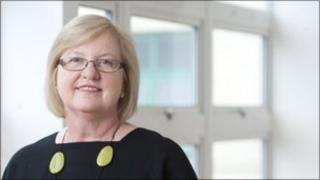 The new chief executive of Mid Staffordshire NHS Foundation Trust has given herself two years to make "demonstrable improvements".
Lyn Hill-Tout will succeed Antony Sumara in mid June at the trust which manages Stafford Hospital.
She said she would be drawing on her 34 years of experience working in the NHS to restore public confidence.
A public inquiry is being held after a higher-than-expected number of deaths at the hospital between 2005 and 2008.
In 2009, NHS watchdog the Healthcare Commission said the hospital's "appalling" emergency care had resulted in patients dying needlessly.
Mr Sumara was bought in on a two-year contract to troubleshoot the hospital in the wake of the report.
Ms Hill-Tout has been chief executive of Great Western Hospitals NHS Foundation Trust, in Swindon, Wiltshire, for the past eight years.
'Great shame'
She said: "I think the tragedies that have happened at Mid Staffordshire have really dented the confidence of people in Staffordshire in the NHS.
"That's a great shame for local people and a great shame for the reputation of the NHS.
"I think there's a lot that can be done to improve that and I hope I've got the skills and experience to really make a difference."
She added the trust needed to make sure that every patient who came into the hospital felt confident and received "high quality, consistent care".
She said she would be giving herself two years to make "demonstrable changes".
Ms Hill-Tout said she wanted to work with patients, staff and campaign groups to see what they thought needed to change at the hospital.
"There needs to be a pace to the changes but they need to be sustainable changes," she said.