Stoke-on-Trent man arrested after Tunstall house fire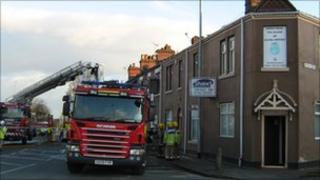 A man from Stoke-on-Trent has been arrested following a house fire in Tunstall.
Nearby homes were evacuated in High Street after the fire broke out shortly after 1510 GMT.
Staffordshire Police said no-one was believed to have been injured in the blaze.
A 37-year-old man has been arrested and will be questioned later. Anyone with information about the fire has been urged to contact police.