National waterways event at Burton-upon-Trent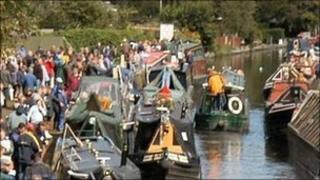 An annual national celebration of inland waterways is to be held at a Staffordshire town.
About 350 boats were expected to line up for the 62nd Waterways Festival at Burton-upon-Trent, The Inland Waterways Association (IWA) said.
It will be staged at Shobnall Fields, alongside the banks of the Trent and Mersey Canal, from 29 to 31 July.
The event helps to raise funds to preserve and restore UK waterways, the charity added.
Chairman of the IWA Festivals Committee Ian West said: "When we came to Burton in 2004 we enjoyed one of our best ever festivals, attracting thousands of people to the event."
The festival is organised annually by a volunteer group of more than 300 of the association's members.
The charity advocates the conservation, use, maintenance, restoration and development of the inland waterways for public benefit.