JCB-sponsored £22m academy is opened by royal couple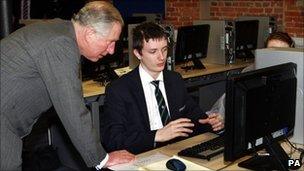 The JCB Academy in Staffordshire has been officially opened by the Prince of Wales and the Duchess of Cornwall.
The first 170 students, from Staffordshire and Derbyshire, began studying at the £22m academy in Rocester last September.
The core focus is on engineering with pupils, aged 14 to 19, also studying maths, English, science and German.
JCB has part funded the new school, with the rest of the money coming from the Department of Education.
The couple toured the Grade II-listed Arkwright Mill, provided by JCB, met staff and students and unveiled a plaque to mark the official opening of the facility on Friday
In a short speech, the prince said he was impressed by what had been achieved.
"I think this academy and others, I hope, like it, will make an enormous difference to this country's future... particularly because of the need to establish and develop, rapidly, a low-carbon economy."
The digger firm said it eventually hoped to teach 540 students from Staffordshire and Derbyshire.
The building has been equipped with more than £1m worth of modern engineering equipment, JCB said.
Sir Anthony Bamford, JCB chairman, said: "The JCB Academy is the first of its kind in the UK and it is already enjoying great success.
"The commemorative visit by the Prince of Wales and the Duchess of Cornwall is a wonderful opportunity to share the story of the success so far and the ethos behind the academy's creation."
JCB contributed 10% of the capital and donated the mill, which dates back to 1871, in which it is based, a spokesman said.
Related Internet Links
The BBC is not responsible for the content of external sites.