National Memorial Arboretum expecting 'record year'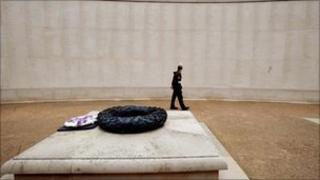 The curator of the National Memorial Arboretum in Staffordshire believes 2011 will be a record year for the unveiling of new memorials.
The 165 memorials already on site are set to be joined by at least 40 more in the coming months.
A spokesman said new applications from veterans associations and other groups were arriving every week.
Curator Paul Kennedy said: "The increase in memorial applications is warmly welcomed ."
He added: "It is just 10 years since the arboretum first opened its gates and, in this short time, we have become a nationally important site and a focal point for year-round remembrance.
'Ambitious plans'
"The coming year heralds a very exciting period of development for the arboretum.
"Our major fundraising appeal for new visitor facilities is matched by equally ambitious plans to create a beautiful new area called Gardens for All."
He added 10 new memorials had been completed in the past three months, including the Women's Auxiliary Air Force (WAAF) memorial, the Royal National Lifeboat Institution (RNLI) memorial and the Edward's Trust memorial garden.
The arboretum, which is part of The Royal British Legion family of charities, has approved the designs for a further 27 memorials and plans for 15 memorials are currently being considered.