Stoke children's centres saved but disabled pool cut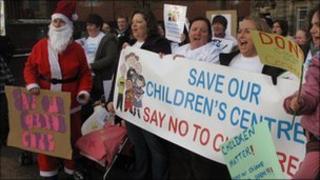 Seven children's centres in Stoke-on-Trent have been saved from closure at the expense of libraries, care homes and a swimming pool.
The city council said in November it needed to close seven Sure Start centres to help it save £33m.
It has since calculated it will have to make savings of £36m next year but agreed to save the children's centres.
It now plans to close the libraries in Burslem and Fenton, two care homes and a pool in Shelton and Tunstall instead.
The council, which is run by a Labour-led coalition with the Liberal Democrats, said six local authority funded organisations including the city farm and outward bound centre, were also now under threat of closure.
Council leader Mohammed Pervez said the council had changed its mind about the children's centre closures after considering the public level of concern for them.
"We are also proposing to keep the respite care for disabled children at weekends. I think these two key changes from the original budget proposals gives a clear demonstration that we want to protect the most vulnerable in our city," he said.
"These cuts are inevitably going to be painful and extremely tough, but we have done everything possible to minimise the impact on key frontline services," he added.
Val Gibson, from the union Unison, said the other proposed community closures would equate to about 700 job losses in an already deprived economic area.
She said: "That's not going to be good news for Stoke people and it's certainly not going to be good news for the users of the services."
Shelton swimming pool is adapted with ramps and a chair hoist for people with disabilities.
It also has a therapeutic hydrotherapy pool which is popular with people with disabilities and patients recovering from injuries.
Ms Gibson said: "We just heard about the swimming pool being used by disabled people.
"The government keeps telling us that the cuts can be made by the back room services. These are clearly not backroom, these are going to affect even more of the vulnerable people of Stoke."