Two Stoke-on-Trent councillors snub Holocaust book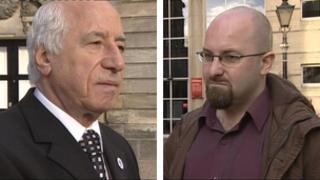 Two councillors have said they will not sign a memorial book dedicated to the victims of the Holocaust.
Kassem Al-Khatib, a Palestinian, and Gavin Webb will not add their signatures to the Stoke-on-Trent City Council book for different reasons.
The book was opened a year ago and is part of events in the city to mark Holocaust Memorial Day.
Mr Al-Khatib said if a Palestinian genocide memorial was erected nearby, he would happily sign the book.
"When a memorial, genocide memorial, a Palestinian genocide memorial is erected next to the Jewish memorial, I will be happy to celebrate it," the Labour councillor for Hartshill and Penkhull told BBC News.
'Matter of principle'
Mr Webb, Stoke and Trent Vale's Libertarian representative, said he refused to sign the book because of the "gross stink of hypocrisy" throughout the British government's foreign policies.
"Gestures like this mean nothing and there is just a gross stink of hypocrisy throughout all of our foreign policy," he said.
"So, on a matter of principle, I decided not to sign this piece of paper."
Councillors and the public gathered at the civic centre on Wednesday for a ceremony to remember victims.
Other events to be held in the city include the planting of 100 trees as an act of remembrance.
A council spokesman said it was hoped everyone would sign the book.
"It's a shame that that's really put a sad note on top of what has been today a very good commemoration."