Stoke-on-Trent cuts will be 'more than expected'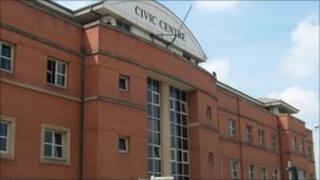 Cuts to services in Stoke-on-Trent are going to be more than at first thought, the city council has said.
The council had been looking to make up to £33m savings in its 2011/12 budget with more than 700 jobs at risk.
Now it says the cuts are going to be far deeper and it has identified £40m of budget savings, of which £36m must be agreed.
Council leader Mohammed Pervez said it was "crystal clear" that there will be an extremely rough road ahead.
'Difficult decisions'
The Labour-led coalition council has been given an 8.1% reduction in its budget which the council said equates to a £25m reduction in its government grant support for the 2011/12 budget.
This, alongside unavoidable contractual commitments of £11m, gives the council a shortfall of £36m, the council said.
"There are some very difficult decisions that need to be made on equally competing priorities," Mr Pervez said.
The detail of the new savings will be finalised and presented to councillors within the next two weeks.