Lorries damage occupied caravans at Coven Heath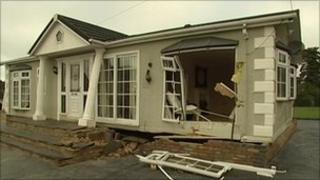 Two lorries were driven on to a caravan site near Wolverhampton and damaged two static caravans while the occupants, including children, were inside.
The lorries, which went on to the site known as New Buildings in Coven Heath, Staffordshire, were then set on fire.
Police said the drivers then got into a third vehicle which drove away.
The people in the caravans were not injured in the incident, which took place just before 0530 GMT. Police said they were treating it "very seriously".
A spokesman for Staffordshire Police said: "It appears that two lorries drove on to the site and caused damage to the two static caravans that are legally housed there."
One lane of the A449 in Coven Heath has been closed while police investigate.