Stoke-on-Trent's experience of voting reform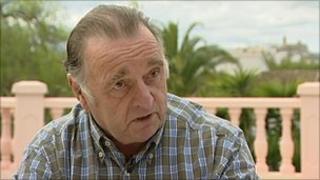 As the House of Lords considers a referendum on the Alternative Vote (AV) system, Stoke-on-Trent residents can say: "Been there, done that."
In 2002 the Labour favourite George Stevenson lost out on becoming directly elected mayor by 314 votes - despite winning the most first votes.
His rival, gay rights campaigner Mike Wolfe won - after no-one got over 50% - when second votes came into play.
But Mr Stevenson, who now lives in Spain, said he still supported AV.
'We have to change'
The system he lost out on was called Supplementary Vote, which differs to AV in only allowing the top two candidates to reach a second round.
Speaking from his home near Alicante, former Stoke-on-Trent South MP Mr Stevenson said AV was a fairer version of the current system.
He said: "What we failed to understand is we should campaign for second preference. We, as politicians, have to change the way we approach the electoral process.
"[AV] gives you an opportunity to come in contact with a wider cross-section of society."
But the Labour Stoke-on-Trent Central MP, Tristram Hunt, said AV was simply a "stepping stone" to full proportional representation, which he opposes.
The television historian, whose adoption as candidate for the seat was strongly opposed locally, said: "The Alternative Vote system we are presented with is used in Fiji, Papua New Guinea and Australia.
"And I think Papua New Guinea are getting rid of it because it hasn't quite worked.
"First-past-the-post is not ideal, but it's the least worst system."
The issue will be discussed on The Politics Show West Midlands on Sunday, 16 Jan 2011 at 1200 GMT.