Stoke-on-Trent City Council politicians in budget plea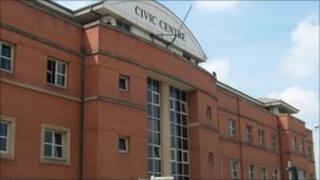 Stoke-on-Trent politicians are calling on the government to make the city a "special case" over its budget cuts.
Stoke City Council called its £21.6m cut "the worst case scenario come true" and said many services would suffer.
The city's three MPs and senior members of the council are meeting junior local government minister Andrew Stunell.
The council had previously asked that Stoke be made a special case because of its "high levels of levels of deprivation".
Last month it was revealed Stoke's funding from the government would be slashed by about 8.1% as a result of the Spending Review.
Stoke City Council said the £21.6m cut, together with £11m it had already identified as "unavoidable budget pressure", meant it had £32.6m less to spend next year.
Under its current budget plans services, including children's centres, leisure facilities and heritage projects, face closure.
Mohammed Pervez, leader of the Labour-led coalition, said he aimed to make the minister fully aware of the city's deprivation and unemployment levels.
He said he did not expect the financial settlement for 2011/12 to be changed, but hoped the city would be "looked upon more favourably" in the future and considered for government investments.
The council had written to the government ahead of last October's Spending Review to outline the city's particular problems.