Hundreds of drivers on roads with 12 penalty points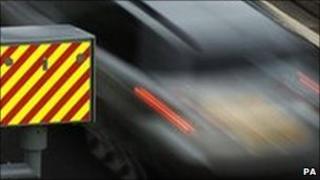 Concerns have been raised about the number of drivers in Staffordshire and Cheshire still on the roads despite gaining 12 or more penalty points.
A total of 451 people were driving in the two counties with 12 or more points, DVLA figures showed.
Motorists who get 12 points face a temporary ban unless they can convince a court it will cause great hardship.
The AA said the figures were too high and the ban should only be avoided in "exceptional circumstances".
The figures were obtained from the DVLA by BBC Radio Stoke under a Freedom of Information request.
They revealed that 235 drivers in Cheshire and 216 in Staffordshire were still on the roads despite reaching their penalty points limit.
One driver had amassed more than double that with 27 points.
Ten motorists had more than 20 points and one in Cheshire was still driving after gaining 27 points.
Court's discretion
The DVLA said allowing someone to keep their licence was a matter for the courts but the AA's head of road safety Andrew Howard said the courts should be tougher.
"We have to be annoyed that it's being allowed to happen," he said.
"Everybody knows we get three points for speeding, everyone knows you get disqualified when you get 12 points and that should be the case.
"It should only be in exceptional circumstances that anyone keeps their licence after getting 12 points in three years."
Graham Richards, a former district judge for Staffordshire, agreed the figures were high.
"Four hundred is a lot of drivers and I myself would have expected it to be far, far lower," he said.
He said the courts looked at all the facts when deciding whether to issue a ban or not, adding it was down to their discretion.
He said someone needing their car for work was usually a key factor.