Barrier plea after car hits couple's conservatory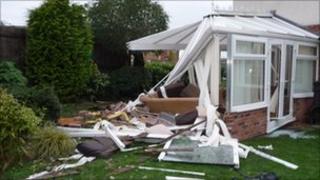 A couple living next to a Staffordshire bypass want crash barriers erected outside their house after a vehicle crashed into their conservatory.
David and Tracey Poole live next to the Biddulph bypass and said the 4x4 went through their front and rear garden in the crash last week.
He said motorists on the bypass can get "startled" by traffic turning right at the junction by his house.
Staffordshire County Council said it is awaiting for a report from police.
Mr Poole said he was getting ready for dinner when the crash happened, causing damage he estimated at about £20,000.
'Completely ruined'
He said: "We just heard one almighty crash.
"We went round and there was a gentleman in next door's garden, a little surprised to be there.
"The conservatory is completely ruined."
He said he would like to discuss the issue of barriers with the officials.
"People that are coming down the bypass do get startled by people turning right into the junction.
"The only refuge, if they do get startled, is my house."