Staffordshire high-speed rail stop 'vital for firms'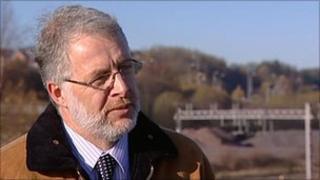 The president of a chamber of commerce says it is vital the planned high-speed rail line (HS2) from London to the Midlands has a Staffordshire stop.
Plans for the £30bn HS2 route include a line from London to Birmingham branching off to Manchester and the East Midlands.
North Staffordshire chamber said firms would not relocate there without it.
A consultation on the coalition government's preferred route is due to be announced shortly.
HS2 said its plans would bring benefits of £2.5bn to the region's economy.
Mike Herbert, president of North Staffordshire Chamber of Commerce, told the BBC's Politics Show that without the HS2 firms would not consider north Staffordshire as a place to relocate to or open a new branch.
Tristram Hunt, Labour MP for Stoke-on-Trent Central, said: "If they are making stops in the East Midlands with a much lower population level compared to North Staffordshire, if they're making stops in York, again with a much lower population and also a much wealthier city, then it seems to me that there is absolutely a case for a stop in North Staffordshire."
The plans for the high-speed rail network, featuring trains capable of running at up to 250mph, were announced by the previous Labour government in March.