Stoke-on-Trent's £1m lottery winner sought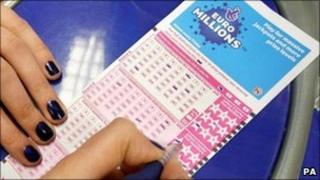 The winner of a £1m EuroMillions prize has not come forward two weeks after buying the ticket in Stoke-on-Trent.
The ticket was bought for the draw on Friday 12 November, Camelot said.
The person is a EuroMillions Millionaire Raffle winner, with the selection WCN808991. These are created with every EuroMillions line played.
Meanwhile, someone who bought a lottery ticket in Dudley, West Midlands, missed out on more than £1.1m after not claiming it by Thursday's deadline.
The National Lottery ticket was bought in the Dudley area for the 29 May draw, but the unclaimed £1,197,899 jackpot will now go to the lottery's charity fund.
The person who bought the EuroMillions ticket in Stoke has until 11 May to claim their prize.
'Champagne on ice'
They were one of 10 £1m raffle winners in a special draw on 12 November, lottery operator Camelot said. Four of them have so far not come forward.
The Millionaire Raffle was added to the game last year and the automatic selections are printed on the tickets.
A spokesman said they were keen to unite the mystery ticket holders with their winnings.
"Try checking in the pockets of clothing, in wallets, bags and down the back of the sofa," he said.
"We have the champagne on ice and our fingers crossed that the lucky winner comes forward to claim their win."