Hot tub sales firm Trade Price Group investigated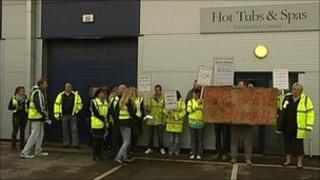 Trading standards has started a criminal investigation into the sales practices of a Staffordshire hot tub supplier.
It said hundreds of customers had complained about Trade Price Group because of the quality of the products and delivery delays of up to 10 months.
A group of about 20 customers staged a protest outside the company's offices in Rugeley on Thursday.
The firm denied wrongdoing and said it was being subjected to a hate campaign.
Two-year wait
Andrew Foulkes, from Sheffield, was at the protest on Thursday and said: "I'm here to try and get my money back."
He ordered a product in March and said he had repeatedly been told since then that it was in stock but had still not received it.
"It's still in China they tell me. Repeated phone calls, repeated promises, nothing ever materialises."
Ricky Rigby, from Brownhills in Walsall, West Midlands, said: "It took me two-and-a-half years to get my money back. Two-and-a-half years of headache court costs. They shouldn't be allowed to get away with what they get away with."
Staffordshire Trading Standards said it had received more than 400 complaints in the past two years about Trade Price Group, which also operates under the names of UK Hot Tubs For Sale and Spa Serve.
Trading standards said it had persuaded Trade Price Group to enter into a voluntary agreement in 2009 to change how it operates.
Brian Mycock, from Staffordshire Trading Standards, said: "When we monitored it in the following months we found that they hadn't really changed their business practices.
"Because of that we decided to launch a criminal investigation into their sales methods [and] business activity."
'Vociferously denies'
Trade Price Group said it was taking legal action against a number of its customers.
A statement from the firm said: "Trade Price Group has been subject to a long standing hate campaign, comprising e-mail abuse, internet abuse, harassment, and illegal threats."
The statement continued: "Trade Price Group acknowledges that some customers have expressed a preference to cancel their orders.
"Where that has happened, and it has determined that they are entitled to do so, Trade Price Group has made those refunds.
"Trade Price Group has never failed to deliver hot tubs to any of its customers that have not been subject to a refund or order cancellation.
"It refutes and vociferously denies any allegation that it has in the past, or currently, demonstrated any purposeful intent to mislead or defraud its customers out of their money."
Full refund
The firm claimed a protest group had engaged in "Harassment, intimidation and threats to employees' families."
It said the campaign against it was led by a retail competitor.
One of the protesters, Kay Waterman, from Southampton, said: "With the greatest respect I would like to see some evidential proof against myself personally.
"I don't know any members or friends with claims nationwide who have harassed in any way shape or form their children or members of their family."
Ms Waterman received a full refund from the company and has since set up her own business importing hot tubs.
The trading standards investigation into Trade Price Group is continuing.