Stafford Hospital deaths: Ex-boss 'largely responsible'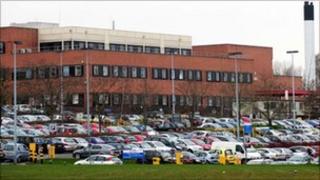 An inquiry into the chief executive at Stafford Hospital at the time a damning report was issued concluded there was a case for disciplinary action.
Martin Yeates resigned in March 2009, days before the report was published.
The Health Care Commission's (HCC) report estimated about 400 more people died at the hospital between 2005 and 2008 than would be expected.
The Mid-Staffordshire NHS Trust said its priority at the time had been the hospital.
'Poor leadership'
The report, commissioned by the hospital's interim chairman, was at first issued by the trust with sections of information blanked out. As the result of a BBC Freedom of Information request the report was issued in full.
It notes that the HCC made a number of criticisms of the leadership of the trust which ran the hospital, saying there was a "longstanding lack of medical and general leadership" and that the nurses' leadership had also been poor.
The trust had lost sight of its main priority, providing high quality care to patients, it said and that although board members had assured the HCC patients were their top priority, this was not apparent from board minutes or decisions.
The report added that the evidence it saw in papers and minutes were consistent with the HCC findings.
The chief executive must bear a "commensurately large share of the responsibility for these failures in leadership and management", it said.
'First class'
In mitigation, the hospital said Mr Yeates had inherited a difficult set of issues in 2005, including the fact that governance arrangements had been very weak and that there had been a significant financial problem.
It also pointed out that his appraisals, carried out by the chairman, were positive, with little criticism - in fact he was described as a "first class chief executive".
The report concludes that that was a case for disciplinary proceedings to be made.
Sir Stephen Moss, chairman of the trust, said: "Following the damning Health Care Commission report, the former trust board's priority was to stabilise the hospital.
"The board sought legal advice on the options available to them in relation to Mr Yeates and made their decision based on the information they had at the time."
The Healthcare Commission has since been replaced by the Care Quality Commission as the new health regulator for England.