Help given over Stafford Hospital backlog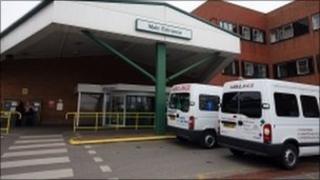 Stafford Hospital managers have accepted an offer of help from the county council to deal with a backlog of complaints, the authority said.
The hospital is faced with a backlog of more than 200 complaints, Staffordshire County Council said.
The authority would help train hospital staff to deal with complaints, but would not "be answering the complaints as such", the hospital said.
It dismissed a suggestion it could not cope with the number of complaints.
Matthew Ellis, the council's cabinet member for adults and wellbeing, said: "People with complaints relating to their own care, or that of their loved ones, must receive a timely response.
'No direct impact'
"I do not anticipate county council staff dealing directly with complaints about the hospital.
"They will assist the hospital in increasing capacity for dealing with complaints through training and quality assurance whilst offering arbitration in certain circumstances.
"The help we are providing will have no direct impact on the complaint handling around county council services."
In 2009 it was reported there had been at least 400 more deaths at the hospital than would be expected between 2005 and 2008.
In July this year the Care Quality Commission said the hospital had made considerable progress, but also said there was still some work to be completed.
A public inquiry is set to start next month at the town's council offices.
Two previous inquiries, held in private, found evidence of neglect.
Julie Hendry, director of quality and patient experience at the hospital, said it had been receiving complaints going back a number of years and some were "very complex".
'Considerable progress'
She said it was "very grateful" for the council's help, but said the hospital was "definitely able to deal with the number of complaints".
"We've got a large number of staff working inside the hospital, but it's just... additional support from the council in terms of training and co-ordination.
"They [the council] will be helping with training for our staff to answer the complaints properly.
"We are very committed to making sure that by the 1st of December all the backlog of complaints are dealt with."
The council said it had offered assistance from complaints specialists in training and co-ordinating responses for the next three months at the hospital.