Missing Polish woman's body discovered in Burton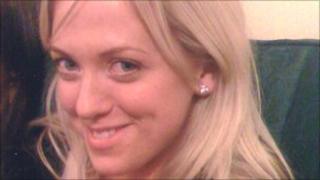 Human remains found near rugby fields in Staffordshire are thought to be those of missing woman Sylwia Ciapcinska.
The remains, found close to Ferry Bridge in Burton-upon-Trent, were found by a member of the public on Friday.
Miss Ciapcinska, 24, of Ash Street, was last seen on 20 July in the Octagon shopping centre in the town.
Tomasz Sobczak, 29, of Ash Street, has been charged with her murder and will appear in court on 8 October.
The remains were left in place overnight and are due to be examined by a pathologist and scientists later.
A police spokesman said formal identification had not taken place but police were working on the basis that they are Miss Ciapcinska's remains.
She had arrived in the UK on 2 July and planned to stay for about a year to earn money to help her to buy a home in Poland.