Anti-litter team to enforce fines in Stoke-on-Trent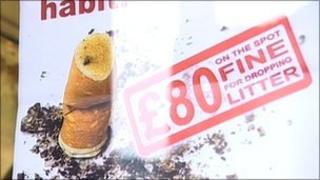 People caught dropping litter in Stoke-on-Trent are the target of a new environmental crime team.
The officials, supported by Staffordshire Police, will target people who drop litter, paint graffiti or fly tip.
As part of the crackdown, officers can issue on-the-spot fines of £80.
City council enforcement and investigations manager Ian Tamburello said: "If someone has committed an offence, they will be taken to task."
Businesses in Stoke-on-Trent have also been involved in the scheme.
City centre trader Tom Edwards said: "If it's a dirty, grey, dim city, then people won't choose to come here."
The officers are patrolling the streets for a six-month trial period.