Murder case closed after suspect's cell death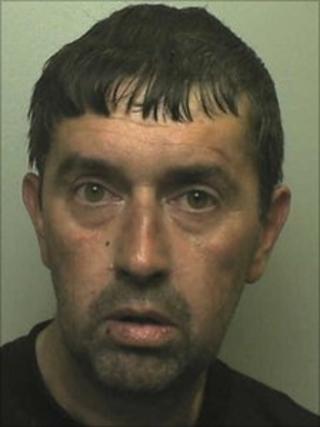 Police have formally ended an investigation into a disabled woman's murder after the suspect was found dead in his cell with his throat cut.
Leslie Stubbs, 52, of Leek, Staffordshire, had been charged with murdering Deborah Wilkes at her home in August 2009.
Mr Stubbs was found at HMP Birmingham on 29 August while awaiting trial.
A finalisation hearing at Stafford Crown Court was told that he was the principal suspect.
A judge accepted confirmation of Mr Stubb's death in prison and that the case was now closed.
'Significant evidence'
Mrs Wilkes, a 49-year-old grandmother was found in her hallway of her home on Shirley Street, Leek on 23 August last year.
She was naked and had been strangled.
Mr Stubbs was charged with her murder soon afterwards.
Det Ch Insp Steff Lungrin said evidence pointed towards his guilt.
His fingerprints and DNA were found at the scene and witnesses saw him either at or near to Mrs Wilkes's home when she was killed, he said.
"Due to Leslie Stubbs's death, we were unable to place the significant amount of evidence that we had gathered before a jury," he said.
"However, all of the evidence pointed very strongly to the fact that Stubbs murdered Mrs Wilkes."
Officers are no longer looking for anyone else in relation to the inquiry, he added.
He described the incident as "a callous and brutal murder on a disabled, vulnerable woman who wouldn't have been able to defend herself".
"It doesn't appear that Stubbs knew Mrs Wilkes, and his exact motive was never clear as, despite the weight of evidence against him, he refused to admit that he'd killed her," he added.
In a statement Mrs Wilkes's family said they felt let down by his death and that her death was pointless.
"We feel this has denied us the opportunity to see the justice process followed through to the point where he was imprisoned for the murder of Deb, our mother and a loving grandmother," they said.