Shot Chasetown father's killers 'animals'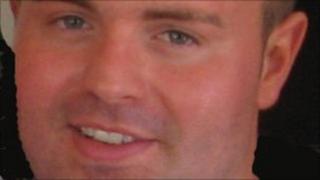 The family of a man shot dead at home in Staffordshire two months ago have paid tribute to the "devoted" father and called his killers "animals".
Richard Deakin, 27, was shot in the chest at his house in Meadway Street, Chasetown, in July.
Two men arrested in connection with the father-of-two's death have been released on bail.
Mr Deakin's fiance Megan said: "The cowards who did this are not people, they are animals."
She said her partner had been "totally devoted" to his girls and urged anyone with information to contact officers.
'We all hurt'
She added: "People may be scared to come forward, but if they don't, Richard's killers will still be out there.
"Someone needs to come forward to put them behind bars so that other people are safe."
Mr Deakin's mother Carol said: "We all hurt for each other. We haven't got a life at the moment.
"We exist to look after the girls. I just keep asking, 'Why, why, why?'. "
His mother said she kept questioning why anyone would kill "someone so lovely, caring and sincere".
"If anybody would ring and tell Richard they needed something he'd be there in a flash to help them," she added.
Detectives from Staffordshire Police's Major Investigation Department are carrying out an extensive murder inquiry, a spokesman said.